SEEDOLOGY- The Superfoods Skincare Collection
Posted on 07-02-2022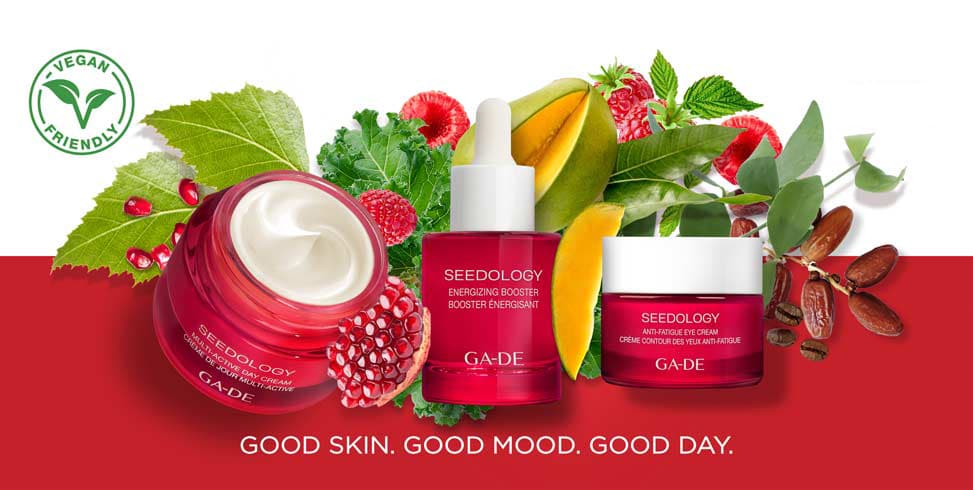 SERVE YOUR SKIN A DAILY DOSE OF HEALTH WITH SUPERFOODS SKINCARE COLLECTION
Superfoods are probably something you're already familiar with, serving the body with a nutrient dense dose of antioxidants, vitamins and essential fatty acids. However, what you maybe didn't know was that their benefits have been making waves in the beauty industry when added to skin-care products.
The SEEDOLOGY collection takes advantage of all nature has to offer: created with 92% all-natural ingredients, this vegan friendly skincare collection combines the latest skincare developments with the abundance of nutrients found in superfoods.
 This collection includes an anti-aging day cream, a booster, and an eye cream, all in an ultra-light-weight, smooth formula and enriched with the Skin Wellness Complex, leaving skin fresh, supple and radiant.
MULTI-ACTIVE DAY CREAM
Experience an eco-friendly skin awakening, with this beautifully nourishing, age-defying nutrient-rich day cream, packed with powerful superfood, which nourish, stimulates facial skin and brings back the healthy glow in normal to dry skin.

Formulated with:
• Vita Beautique – derived from the outer peel of pomegranates to provide optimal protection from pollution and UV rays
• Hyaluronic acid - highly effective moisturizing active
• Pomegranate seed oil and extract – a potent anti-ageing ingredient
• Jojoba seed oil – rich in nutrients, antioxidants and minerals to moisturize and soften.
• Reishi mushroom – hydrates, detoxifies and fights premature aging, redness and fine lines
• Shitake mushroom – naturally brings a youthful glow to the skin
• Maitake mushroom – helps improve skin elasticity and stimulates collagen.

To use: Smooth over face each morning and evening after cleansing.


ENERGIZING BOOSTER
This beautifully light booster, is formulated with a concentrated blend of naturally hydrating, energizing and brightening ingredients and promotes cell regeneration and radiant skin. Experience how the antioxidant rich booster gel quickly melts into the skin leaving behind smoothed, refreshed and exceptionally soft skin.
Formulated with:
• Cellintegrity – naturally derived from the stem cells of raspberries, helps to prevent premature aging
• Hyaluronic acid - an intense moisturizing active
• Arctic chaga mushroom - Helps restore skin's elasticity and slow the premature aging process.
• Kale extract - This leafy green tightens pores, reduces dark circles, promotes collagen production, increases cell turnover, prevents free-radical damage, and detoxifies the skin.

To use: Apply a few drops all over the face, avoiding the eye area, each morning and evening after cleansing.
ANTI-FATIGUE EYE CREAM
Discover more youthful, radiant eyes with this rich age-defying, brightening, hydrating eye cream infused with antioxidants, natural superfoods, and vitamins to help diminish fine lines and wrinkles, dark circles, puffiness, and all signs of fatigue.
Formulated with:

• Vita iLux - derived from the bell pepper. Fights dark circles, boosts collagen renewal, and enhances the skin's firmness and elasticity
• Bionymph Peptide - a vegetable blend which significantly reduces free radical damage, minimizes all signs of ageing and enhances skin elasticity
• Hyaluronic acid - an intense moisturizing active to ensure soft, smooth skin
• Mango seed butter - a superfruit known for its nourishing, firming, and anti-aging benefits.
• Caffeine - known to help improve microcirculation, to act against puffiness and dark circles
• Vitamin PP (niacinamide) - Brighten dark spots, minimizes the appearance of fine lines and wrinkles, strengthens the skin, and boosts hydration.
• Vitamin E - an antioxidant with moisturizing and soothing benefits.
• Reishi, Shitake, Maitake mushroom –improve skin elasticity and stimulates collagen

To use: Gently apply to eye contour every morning and evening after cleansing.