Makeup That Looks Perfect All Day And All Night
Posted on 30-11-2020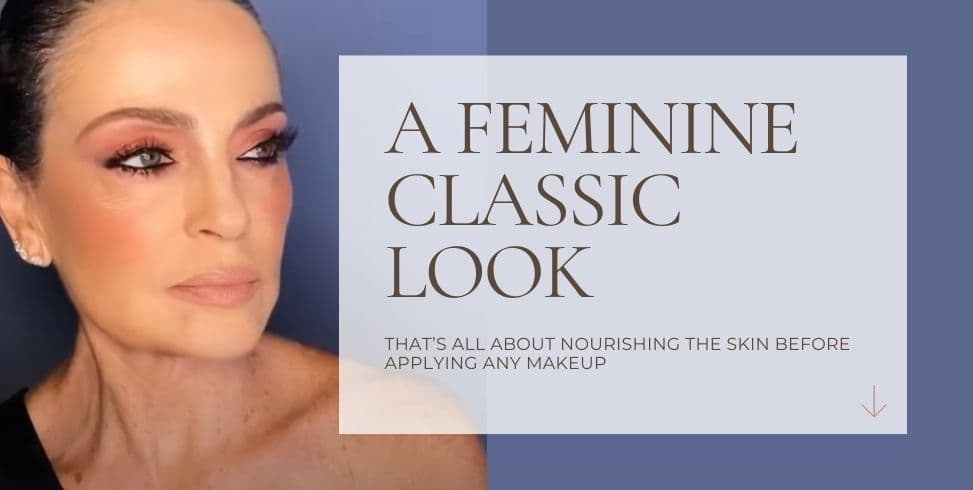 We always think that the perfect makeup look requires technique, knowledge, experience and plain all luck when it comes to skin. But the fact is that while there is a small group of lucky women that were born with perfect skin, the rest of us, mere mortals, are required to take care of our skin and nourish it with the right ingredients.
And it is essential to choose the right products for your skin type and age, as a product created for young, oily skin will not be right for older, drier skin that need tightening and elasticity.
This time we've created a feminine, classic look that's all about nourishing the skin before applying any makeup, to create the perfect canvas for brighter,
better looking makeup that looks perfect all day and all night.
To recreate the look, follow these simple steps:
Start by nourishing your skin:
1. Massage a small amount of the GOLD PREMIUM FIRMING DAY CREAM, onto the face until fully absorbed and tap a little amout of AQUA JOLT DARK CIRCLES RELIEF EYE GEL SERUM to target dark under-eye circles, massage gently using your fingers.
Eyes:
2. Sculpt and define your brows using the BROWITY FIBER BROW GEL
3. For a neutral yet defined eye look use the IMAGINE eyeshadow palette which flatters every skin tone and eye color.
Start with the reddish-chocolate tone, place a small amount to the outer corners of the eyes and blend keep adding as desired. Then use light cream shade to brighten the look and set the makeup. For a more defined look use the light beige eyeshadow  right under the brow.     
4. For full, bold and dramatic lashes start with the ESSENTIALS PERFECTING LASH PRIMER and  use a combination of 2 mascaras – IDYLLIC HIGH DEFINITION VOLUME & LENGTH MASCARA that will provide instant volume and intensely lush color followed by EFFECTIC VELVET VOLUME EFFECT MASCARA that will give you beautifully sculpted, fanned-out and amplified lashes.
Face:
5. Treat your skin and create a flawless yet natural looking appearance using LONGEVITY COLLAGEN FOUNDATION, Use a foundation brush to apply evenly and blend using a blending brush if necessary.
6. Brighten your under-eye area with VELVETEEN MATTE CONCEALER STICK, Swipe the stick under the eyes and blend using a brush or your fingers.
7. Set your makeup by sweeping MIRAGE MATTFYING AIR-LIGHT SETTING POWDER using a large and fluffy brush.
8. Apply the matte tone from the VELVETEEN CONTOUR BLUSH under your cheekbones and onto your hairline, use sweeping motions with a large brush to blend out the harsh line and create natural looking contour. Sweep the metallic tone onto your cheekbones for a sculpted, bright look.
9. Add a rosy blush to the apples of your cheeks using the pink tone from the SELFIE BLUSH & HIGHLIGHTER TRIO PALETTE.
Lips:
10. For naturel yet defined lips, line them using the EVERLASTING LIP LINER. After lining, use the pencil to fill in the lips for color that lasts all day.
11. Finish off the look by applying a thin layer of SELFIE FULL COLOR LIPSTICK in shade #864 – MIAMI.