We're blushing: A complete guide to choosing the right blush
Posted on 23-01-2022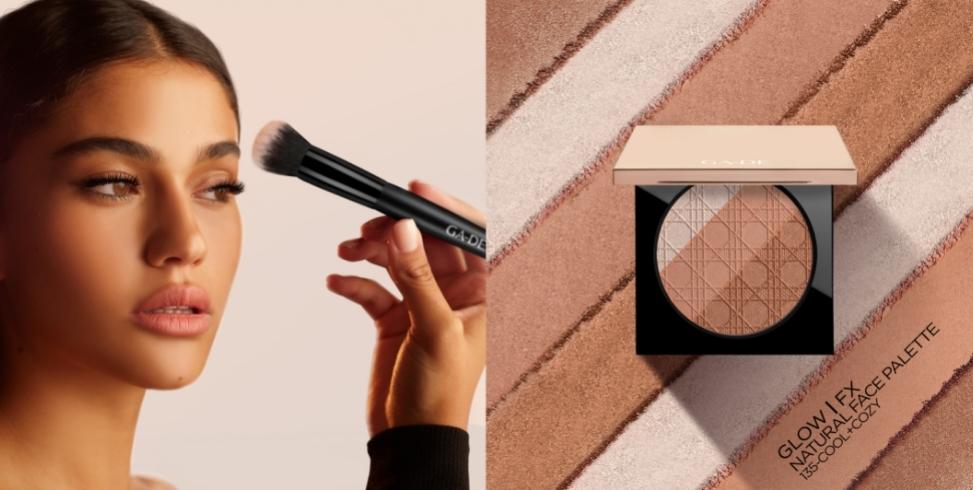 On the cheeks, under or above the cheekbones, on the sides of the face or the bridge of the nose - blush, bronzer and shimmer are undoubtedly the foundation of any makeup bag. they can make us look brighter and more alert, sculpt and refine facial features or just make us look like we spent a few hours in the sun. No matter what your goal is, all you need is the right blush and simple technique to create a different look every day.
But which blush, bronzer or highlighter to choose, and which technique to use? 
We're here for you:
A natural glow: GLOW FX
This band new palette does it all! It's a blush, bronzer and highlighter in one stylish travel-ready compact. The palette features three buildable shades that enhance skin with natural, luminated shades, all formulated with micronized pearls and pigments to create the ultimate natural healthy glow.
Use the shades separately or mix them together to create a variety of looks, from enhancing cheekbones by contouring with the darker shade, to defining and highlighting with the bright, shimmery shade.
Toning and highlight: VELVETEEN
This compact package combines blush & bronzer in a natural shade with a bright shimmer designed to illuminate the high areas of the face to create a playful and radiant look. For toning facial features, start with natural bronze shades from the makeup set, emphasizing the "low" areas of your face, under the cheekbones and at your hairline. Gently blur for a more sculpted and "sharp" look. To create brightness use shimmer, place it on the high areas of the face - above the cheekbones, on the bridge of the nose and even below the brow bone. blur gently, for a natural yet radiant look.
Prefer a more natural look? Using a large brush, sweep a pink shade over the cheekbones and the bridge or your nose. Complete the look with a light touch of highlighter on the outer parts of your cheekbones.
A tanned & bright look: IDYLLIC
This is a classic blush with a satin texture, formulated to emphasize facial features and create tanned look. It has a natural-matte finish that perfectly blends with your skin for an elegant, lightly taned look, or a radiant, pearly rich finish, for a glamorous touch.
For a tanned look, use the brush attached and sweep gently on the sides of the face, from the outer part of the forehead, through the brow bone to the chin line, in a motion resembling the digit - 3. Blend gently and prepare for compliments.
Flushed and fresh: IDYLLIC
The gentle blush comes in a selection of natural shades with a silky texture designed to enhance bone structure and create a natural and healthy "sun kissed" look. To get that rosy, flirty hint of pink, use the attached brush and lightly sweep from top to bottom, all over the cheekbone, for a vital look. For a rosy glow, smile wide and pat a few touches on the apples of your cheeks, then blur.
Infinite options: SELFIE 2 
This limited-edition trio found in every professional makeup bag contains two shades of blush and a bright pearly highlighter.
The three shades, curated to perfectly complement each other, allow you to create any look you desire, with universal shades that compliment all skin tones. Use each shade to emphasize and tone cheekbones, add touches of glow, combine the intermediate shade for a perfect blend and create a radiant, multi-dimensional look.
Trying to create a sexy and monochromatic evening look? Use the dark shade as natural eyeshadow to create depth, then complete with a few touches of shimmer in the inner corners of your eyes and just below the brow bone - for a sophisticated, monochromatic look.